Commencement Address
​Joe Cooper
COMMENCEMENT 1969
"From Here to Where"
​C. M. Doughty once said, "The future belongs to those Communities in which the qualities are dominant, which swell and sanctify the souls of her best sons; that thrust them on and with them impel the body of the people as a tide towards the best that human nature can attain to."
​Here at North High our heritage has been enriched by efforts of the educators and teachers who have guided our thoughts and activities during ourthree years here. We have been beseeched and exhorted to exercise and use ourthinking abilities toward the end that we are prepared to meet - the challenges on the road ahead.
​We have been urged to remain strong and keep continuously active in organized sports and our organized efforts of thought properly directed that we not fall into the pitfalls that lie in wait for youth of today that do not keep themselves disciplined and striving toward the goals ahead. Now that we have been pushed and pulled from the pitfalls, our future lies in wait for us. No longer will we be told right from wrong but must decide ourselves - - for ourselves. The help will no longer be there, and whether we as individuals make it, is up to the individual person.
​I am sure that we of this generation could be asked what we are going to do if we are chosen to be landed on the moon. We are now promised that Mr. Neil Armstrong, who is a civilian astronaut, will be the first American to set foot upon the moon on July 20 of this year. Surely, there will be others who are to follow, and the achievements must be so that we can properly handle the assignment which this will mean to future generations.
​Now, while we are yet here and before we have to solve the problems that will be ours on the moon, we shall urgently need to learn to live at peace with our fellow man. Yes, even with fellow Americans; for this task much diligence will be required. In the technology that is required to best solve problems of today, each of us should continue to qualify ourselves. Our motto at this moment should well be a determined, "On To College in 1969". I know that there are potential ministers, lawyers, doctors, educators, sociologists, politicians, and scientists among us. To qualify in these fields with highest honors must be our goal!
​No longer can there be such a person as a hermit - - or such a group as isolationists. Our generation must now qualify to live and progress in a one world society; and because of the complexity of this, ours must be the highest specialization in these fields of endeavor!
​Now let us further listen to the census takers who tell us that more than half of the World's Population is now 25 years of age or younger. From this we know that ours is the task of becoming the promised "Leaders of Tomorrow". In another 15 years, we the youth of today will be the controlling factor of our society. Our government is run by the governed, and the governing is the majority, and we will be the majority! This not only requires that we be physically ready but mentally ready for the "Great Opportunity" that is in store for us in the future. A great step must be taken from the students that we are now to the adults that we must be. One man cannot become a leader of the people overnight. The process is long and hard and above all - - a group endeavor. We as the graduating class of North High cannot expect to solve any problems, but by becoming an essential beam in the structure of life can do much for our country.
​We who are graduating are participating in a ceremony that dates back to the Middle Ages. The mortar boards on our heads symbolize that we have succeeded in our academic pursuits, and more than this that we are all equal. When you picked up you cap and gown, you were advised, "One of the purposes of the cap and gown is to place all students on the same level. Corsages worn by some make a distinction". It seems we are all starting from the same place.
There is an interesting contrast here, and we can learn from it. On one hand there is a dignity and pride of upholding an ancient tradition of scholars, and on the other hand we will soon encompass many different fields from space to undersea exploration. It certainly is a wonderful time to live. The past has much good in it that we must strive to retain, and the future is rich in promise and holds the time for us to correct the wrongs of the past. We stand on the threshold of the most exciting era in the history of man.
​And now as we stand on the threshold, we can foresee in some way the importance of our lives, and goals that we must set. We have attained a good background during our twelve years of schooling and a diploma from North, which is the key to further ourselves. Our society is one of great complexity; and because of this, it is our need to use this key to unlock our doors.
​As I look back at my stay at North, it brings back many memories. As a Sophomore, I remember the Senior calls and thinking how grand it would be. As a Junior, I remember thinking I was getting closer but still a long way away. And now as a Senior, I remember the first of the year -- it was long... the middle of the year was hard... but now it's done, I regret seeing the end, but now we're ready to go on.
​And finally - - - to close on a word on caution, often times we, the youth of today, have used protest to provoke violent actions. Let us observe: The point which seems finally to be gaining acceptance is that protest is a deadly serious matter. However alienated the protester my feel, his protest does not exist in a vacuum; he is bound to provoke a response for which, like it or not, he is in part responsible. The nature of his protest may help determine whether its outcome is constructive or disastrous.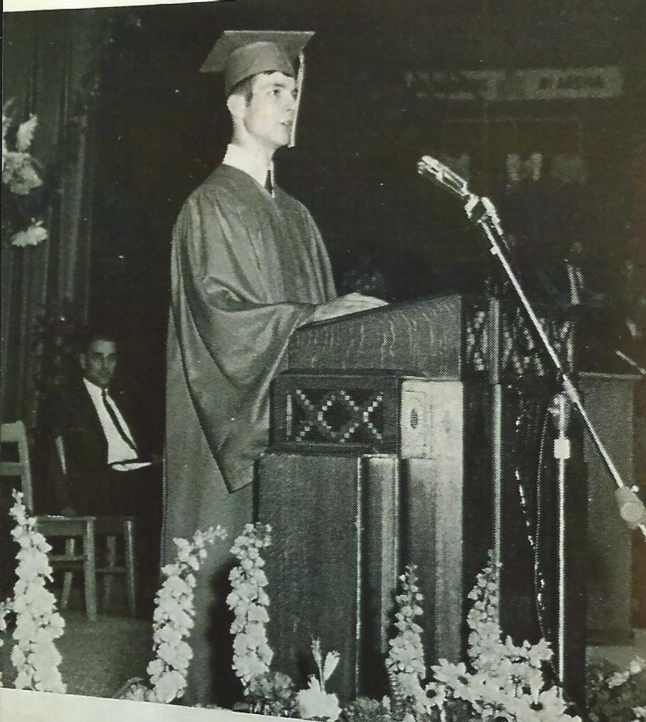 Joe Cooper "From Here to Where"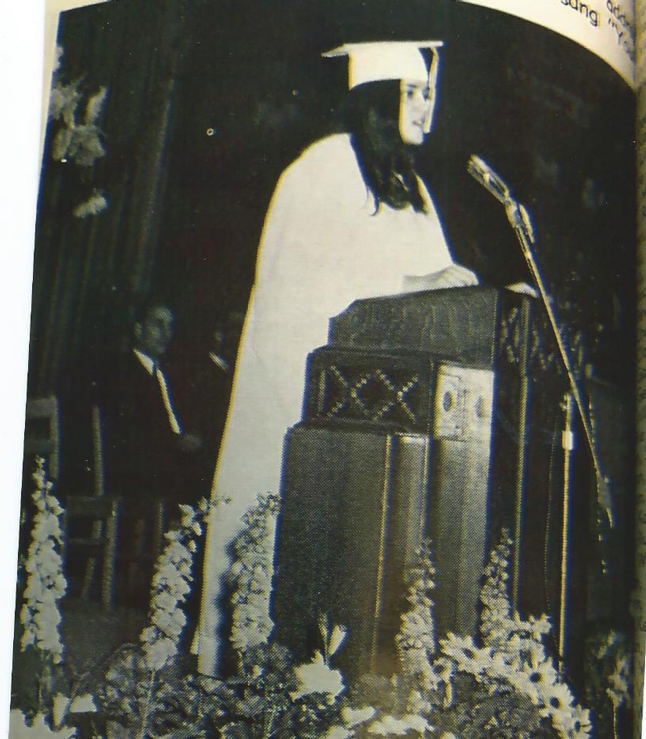 Donna Jefferies "A Blur of Red and White"